I am so thankful for this opportunity to encourage my church family just as they have encouraged my family and me this past year.
As we reflect on the past few years and all that our journey has experienced as the body of Christ, we stand in awe. We have seen the best and the worst, the good and the bad, and yes, even the ugly. God was directing our attention heavenward. We often asked ourselves, "What does He want us to do?" Our hearts were sad to see many of our pastors leave our church. It felt as if everything that we knew to be familiar was changing. Our church became divided and broken over essential issues and trivial matters that, looking back now, didn't even matter.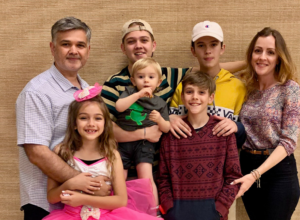 But God. Romans 5:8 tells us, "But God demonstrates his love for us in this, while we were still sinners, Christ died for us." While our church was still wrestling with so much uncertainty, God did not abandon us. Not for a moment. God sent us a faithful leader, Tony Chute. Someone who knew just how to encourage, teach, and guide us through Scripture, directing us towards healing and reconciliation. Although Tony was not planning this, God was. And I'm so glad He did! I recently asked Tony what made him decide to choose to be our pastor and take on the daunting task of leading a congregation that was hurting as we were. His answer surprised me. Tony said with a big smile on his face and with his wonderful southern drawl, "I fell in love with the people!" In this, we see a beautiful example of how Christ loves His church. I believe that God brought Tony to our church for such a time as this.
On the terrible day of January 20th, 2020, Tony, along with Tamane, Taylor, and Terilyn, rushed to the hospital so that they could be with the Hawkins family and us. The tragic death of my son, Jacob, and the Hawkins' family son, Daniel, was a shock we did not experience alone. There was incredible comfort in seeing their grief-stricken faces. No words can describe the emotions … as we stood by the bed of my other son, Joshua, and thanked God that he was safe. The sermon that Tony had preached just the day before, Set Your House in Order, was so vivid and real in my mind. God had spoken. He had prepared us in advance for this tragedy so that we might remember that He is in control. Always. Even in unimaginable circumstances. God was with us, and He would never leave us. Because if He is for us, who can be against us?
During times of suffering, we have the choice to rely on God entirely or to turn from Him and run away. You, as a church, chose to pray. To comfort those who are broken with grief. For many weeks, Tony blessed us with sermons that brought us hope and allowed us to see how God was in our midst. This is what our heavenly Father asks of us! Our church is not just a place that we attend on Sunday morning; it is a living body of believers. It is who we are. This is what Jacob experienced throughout his life. He loved his church; I can still see him running around the playground, down the hallways, going to VBS, and youth night. I thank God for those sweet memories. I am at peace because God's Word was firmly planted in Jacob's heart, and it is due to our church!
God's Word is the nourishment that we need so we can live. I now understand that His promises not only prepare us for life but also death. Revelation 2:7 tells us, "He who has an ear, let him hear what the Spirit says to the churches. To the one who conquers I will grant to eat of the tree of life, which is in the paradise of God." Do we believe this? When we come together for worship, do we sing as if our heavenly Father is in our midst? Does our singing make His heart glad? Do we rely on God's Word as if our life depends absolutely on Him? My dear brothers and sisters, let us live as if all of this is true. The Bible commands complete trust and confidence in every word that is written in it. And there has never been a more significant statement spoken than this, "I am the way, and the truth, and the life." So complete and perfect.
As we see the world changing rapidly around us, our church is called to remain firmly rooted in truth and love. We shine as a hopeful reminder of Jesus Christ. As the darkness increases, let us hold fast to our God, let us fan the flames, and remain a beacon so that many will be saved and one day join us in paradise.
As most of you know, I love music. My father, who is 80 years old, will often call me and ask, "Do you remember this song?" His voice, which has only become more beautiful in his advanced years, soothes my soul as he sings a song that is often many, many years old. Songs that he sang as a young boy. These songs are filled with promises and absolute truth. Now I ask you to hide a song in your heart; this song calls us to Raise a Hallelujah. Sing it during your quiet time or from the rooftops. Sing it with your children. It will remind you to sing in the middle of the storm because up from the ashes, hope will arise, death is defeated, the King is alive! (Bethel Music, Raise a Hallelujah).
Thank you, Jesus.
Ramona Ivascu